Easily the question I'm asked most is what do I "do" to my hair and what products to I use to get it to "look that way". So, here's my current regimen along with the products I'm using.
Detangle. I finger detangle once a week right before I shampoo. Using Luv Natural's Don't be so Clingy detangler. The product is very slippery (but silicone free), and makes it very easy to remove tangles, knots, and shed hairs. I part my hair in four sections and once I've detangled a section I twist it.
Shampoo. I wash my hair once a week, using Shea Moisture Volumizing Shampoo. Since my hair is in four twists from detangling, to avoid having it re-tangle in the shower I take down one twist at a time, shampoo it, then add conditioner, retwist and move on to the next section.
Conditioner. I allow my conditioner, the Shea Moisture Volumizing Conditioner, to sit in my hair for a few minutes while I'm in the shower. Then taking one twist at a time I untwist, and adjust my shower head so there a concentrated stream of water on my hair, I take a wide tooth comb and comb from ends to root as I rinse the conditioner out of my hair. Then I retwist that section and move on to the next.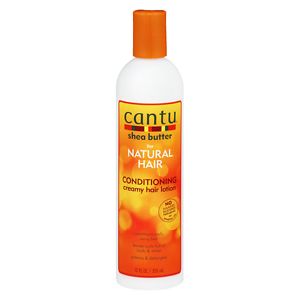 Moisturize. Our of the shower, I dry my hair with a micro-fiber towel or t-shirt (it's supposed to help fight frizz). My hair is still in four twist, taking them one at a time, I untwist and smooth my moisturizer over my strands. Here's where my routine occasionally varies. I'll use one of these three moisturizers becuase they're my favorites right now: Shea Moisture Curl Enhancing Smoothie, Cantu Hair Lotion, Shea Moisture Curl Milk.
Seal. To keep the moisture in my hair I use a combination of raw Shea Butter and Oil (usually Jojoba Oil or Olive Oil) focusing on my ends, the oldest and most fragile part of our hair, then working half way to 3/4 of the way up my hair. I avoid putting it on my scalp because Shea Butter is a really thick product and I don't want it building up on my scalp.
Stretch. If I'm washing my hair in the morning and I have plans that day this is a step that I would skip. But since I primarily wash my hair in the evenings this step is an essential part of setting my hair for the next day. By stretching it with braids or twists my hair will be easy to style and have less shrinkage.
So, that's what I "do" to my hair. I hope this was helpful!
What are some of your favorite products? Do you use any of these products in your regimen?